I have always had a love for bubbles, its in my home as decoration, as pattern in my clothing and I have always been in love with this shape. When I started working on making jewellery I wanted to play with bubbles in all materials and I started a proces I didn´t know where would end. It was just all about play and reflection and one day looking at my homemade lamps in my living room, I got the idea for the collection Colors bubbles. You can say it´s sort of a love affair, cause it´s the result of my love for colors and bubbles.
In this collection it´s like everything is falling into part. The Color bubble collection unites several of my previous work and designs. I don´t work in seasons, instead I have a more sustainable view on designing. I wanted to create a collection which could work for several years and both me and my clients could keep adding to. This means i am constantly designing new features to the collection, lately I made some hoops for it. The idea is, that you can combine the bubbles in so many ways, and my intention was to create a universe where it´s easy to style and play with materials, shapes and colors the way me and my customers like. One day you are into something simple, next day it's about more is more.
The materials is mainly silver and 22 carat gold, combined with natural semi precious stones, corals and freshwater pearls. Lately I have gotten a new interest in knowing more about the stones I am working with. How can I put the right energy into my art. I also make pieces from the collection in 14 carat solid gold, where I can add stones like sapphires, spinels, grenades and diamonds. Diamonds are a girls best friend. And I also figured out it´s a mans best pal.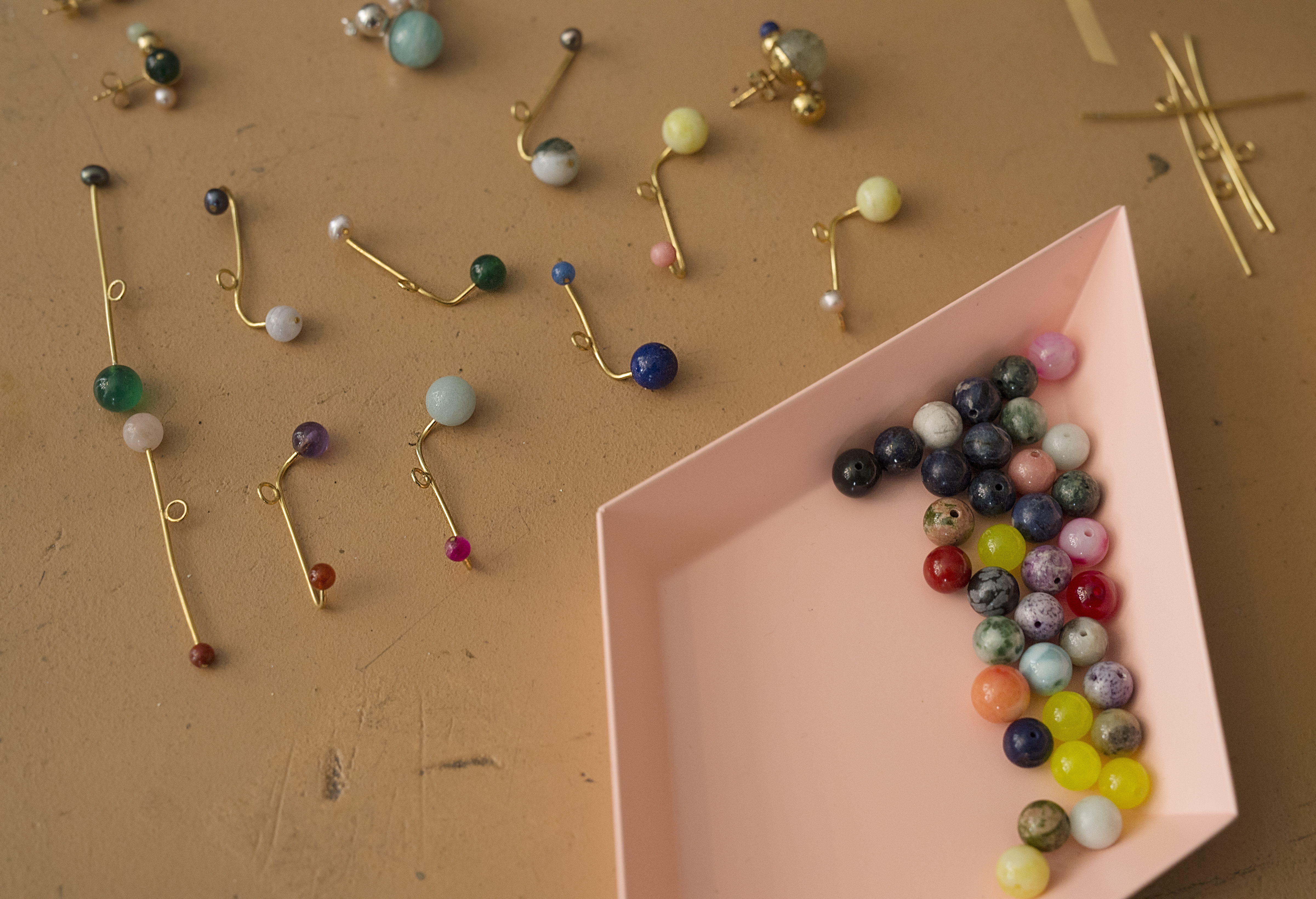 The collection mainly consist of earrings, which can be combined as asymmetrical sets and then you can expand them by putting floating bubbles and bubble chains on the back so that more bubbles come up. If you are into more is more and want some extra jewelry, you can dress up with some color bubbles rings and rings from my other collection Solar System. or you can go big in volume with my latest hoops. It´s all about playing and dressing up an down for the mood and occasion.
A lot of my customers ask me how to style it or what I prefer? Well, I dont have an answer, cause all people and all days are different and that´s the beauty. If you are into a simple colorful touch in your look you can style with a simple color bubble earring. Are you into lots of colors, layers and patterns you can match colors and forms the way you feel and go bigger with the details and shapes of the look.
come and play