Homemade
Home / About / Homemade
My playground
"The pieces are hand made in an open workshop because I like to show the process and let my customers know that every piece has been cared for – and they are welcome to bring on any ideas they might have."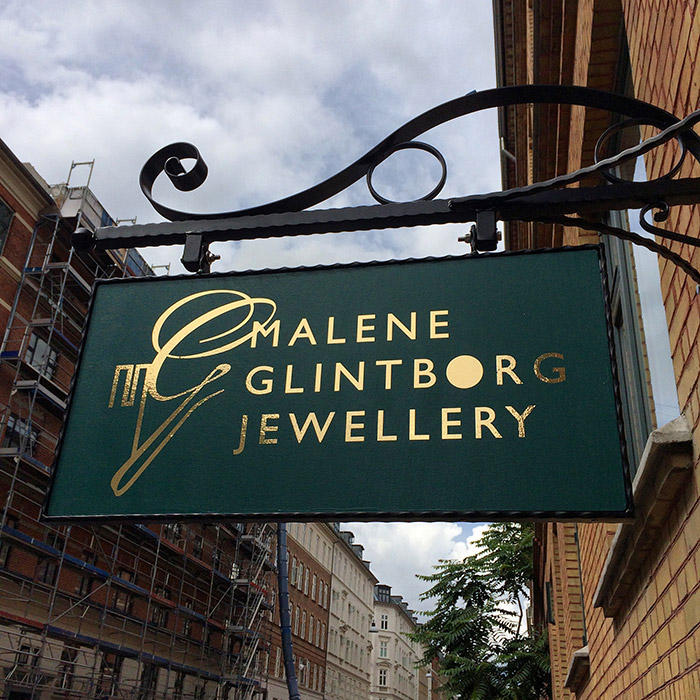 About the shop / the relations
Malene Glintborg has her own studio and shop in Copenhagen and is also a part of a design collective called Flux where 5 jewelry designers share a shop together. Both functions as workshop as well as a point of sale. This is a way to invite the customers closer to the process of how the pieces are made – and a way for the designer to get closer to the customers and their stories.
You find the Malene Glintborg shop in a rough basement location in the local area of Jægersborggade where a lot of other small shops with crafts are located. All the interior of the shop is home made – miming the geometric language of the jewelry.
"I prioritize to keep relations in focus – making sure I have personal connections with as many people as possible, who chooses to engage with me and my business"
In the shop it is possible to order pieces customized to fit you. One of the huge advantages of having the workshop in the shop is that the pieces in many cases cat be fitted while you are there.
Malene Glintborg also takes on special orders such as wedding rings and other requests. If you have an ideas do not hesitate to come by the shop and have a talk.
see a selection of the custom pieces I made here https://www.maleneglintborg.com/design-universe/lookbooks/
Jægersborggade 22, 2200 Copenhagen N
Opening hours
                                                                                                                                                                        mon / tuesday 11-15                                                                                                                                                                                   wednesday 11-17
thurs / friday 11-18
saturday 11-15
sunday closed
… or by appointment